Cabinet - Bath Vanities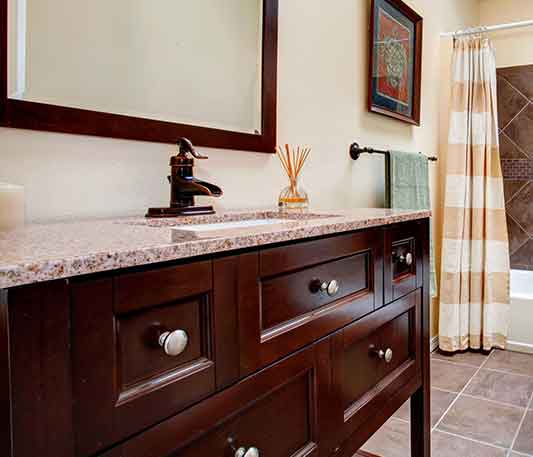 Bathroom vanities are a popular addition to any home. When looking to purchase a vanity, you must realize that there are many factors to take into consideration before placing an order with a store. One of the most important decisions is which type of vanity is right for your specific needs. There are different styles of bathrooms available in the market today ranging from traditional, transitional, modern, and more. What's perfect for one person may not be suitable for another depending on personal preferences and budgets as well.
Uses of bathroom vanities
Bathroom vanities can serve many purposes and have become a popular addition in homes and around the world. In private bathrooms, we use them mainly to store clothes and accessories such as towels, toiletries, etc., but also sometimes to sit on while applying makeup or shaving. Bathroom vanities help provide an organized look to any space and are vital for every day functionality.
Reasons you should buy bathroom vanities From American Wholesale
We offer great designs: You want to make sure that whatever style or design you go with matches the decor theme of your space as well as matches any existing pieces that may already be there such as faucets and fixtures. When searching online, always take into consideration what types of styles they offer including traditional, transitional, modern, or any other contemporary styles you prefer. If you're looking for function over fashion, choose the shape that best suits your space and needs.
We offer great quality: It's important to go with a brand that you can trust. Look for bathroom vanities made from durable materials such as solid wood or steel in order to ensure that they will last for years to come without any problems. On top of that, try to find pieces that are easy on the eyes overall while also fitting into your overall aesthetic theme including the colors and type of decor you've been using in this area. Also, look for reviews from other customers who have purchased similar products from this company before to get an idea of their customer service practices and what types of items they sell.
We offer great prices: If you're working with a limited budget, it's important to find a company that offers great discounts and prices on all of their products without sacrificing quality. You need to have the ability to look through different designs and styles in order to get something that fits your exact needs even when it comes at a more affordable price.
We offer great customer service: In addition to finding bathroom vanities at an affordable price, it is equally important that you choose a company that provides excellent customer service from start to finish. This means not only answering any questions or concerns prior to purchase but also providing installation instructions if the piece must be used with other items in order for it to work properly in your space overall.
How to buy from American Wholesale:
So, once you have established what exactly you're looking for in a bathroom vanity that will best fit within your space and needs, it's important to get started with the actual shopping process. In order for this task to be as quick and easy as possible from start to finish, our company offers an in store showroom where individuals can go to look through a wide range of different styles of pieces ranging from traditional options all the way up to modern designs. This gives customers a chance at having their pick of quality products while also taking into consideration their full wish list prior to purchasing including any existing pieces they may already have going on in their bathrooms. Check out what we have available now: At American Wholesale Flooring, you'll find all kinds of different designs when it comes to bathroom vanities that are custom-made according to your specific needs as well as preferences when it comes to overall aesthetics including colors, shapes, price points amongst other features. This ensures that you'll have a wide range of options to look through in order to find something that's going to fit within your space and needs when it comes time for an upgrade.