How Luxury Vinyl Flooring is Made
LUXURY VINYL FLOORING IS A LAYERED PRODUCT.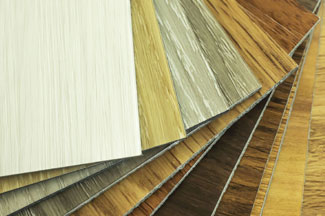 Luxury vinyl plank, or luxury vinyl tile, is a better product than other standard roll vinyl products due to its inherent ability to impersonate the look of flooring materials such as hardwood and tile. The surface of the LVP or LVT is covered by a photo of the desired product, typically an HD photo. This photo merged with realistic tile or wood textures known as embossing.
LVP attempts to take on the form of hardwood and LVT the form of tile. The appearance of hardwood planks is valuable for assuring that customers receive the most visually stunning look-a-like as possible. Real hardwood planks are long in length and can vary in size for widths, but typical luxury vinyl planks are 5-9" wide. Now, luxury vinyl planks are usually made from virgin vinyl and are mixed with other products to make the product more rigid. Companies now have luxury vinyl planks containing a rigid core, which is a harder overall product. LVT is no exception. In order to mimic tile, the flooring must be shaped like tile. LVT is also constructed of limestone making it extremely hard.
Traditionally, there are several differences in the types of luxury vinyl plank. Most luxury vinyl planks consist of virgin vinyl. Now, there are 4 main layers to both lvp and lvt. The back layer is the thickest layer which is made from plastics and wood particles, mixed and glued together with vinyl. This layer is what gives the luxury vinyl its stability. This layer is also known as its core. The core can be made several different ways. Depending upon the desired product, there are 3 main types of cores. The fist core is the oldest and most stable. It is made of strictly virgin vinyl. Before locking systems were attached to luxury vinyl, this was the only core available for luxury vinyl. This was a glue-down only product that was practically untouchable. Loose lay products are made in this manner as well. As time moved on, manufacturers sought to make LVP and LVT more DIY friendly. Any DIY'er has to have the ability to install the flooring themselves. In order to have a core that is hard enough for a click, flooring companies introduced the WPC core or wood plastic composite core. It was very stable and changed the flooring industry. The 3rd type of core is the SPC os stone-plastic-composite core. Again very stable and less likely to be damaged by water. The most recent core is called known as the Rigid Core. Its very rigid, very stable, very waterproof, hard to dent, and easy to produce.
On top of all the core is the actual picture of the plank or stone. Using HD paper and pictures, virtually any wood and color, or stone and color could be replicated. On top of this picture, a wear layer is added. Its a clear plastic layer that protects the virgin vinyl core and the picture from being torn and keeps uv rays from fading the colors. This layer is not very resistant to scratches from rocks, sand, debris, etc, so a final aluminum oxide coating is adding to the top to protect against scratches and scuffs.