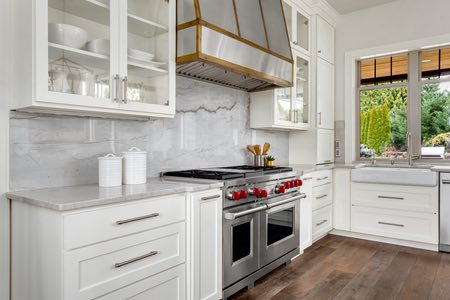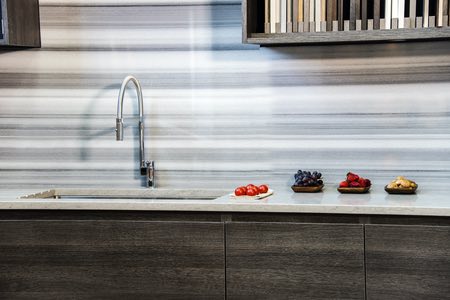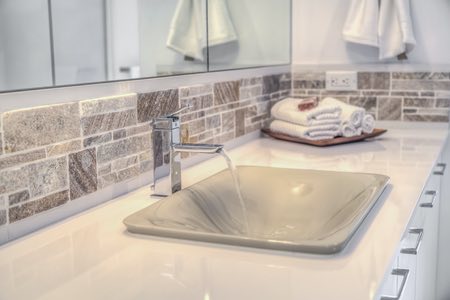 Countertops & Wall Tile - Backsplashes
Maybe you're building a new house or just bought a house but it looks tired and needs updating. Maybe you have lived in your home a few years ago and just need a change. Redecorating your kitchen or bath will often make the biggest impact and may not cost as much as you think.
Why a Backsplash
One thing that people don't often think of is the impact a backsplash will make. They can be really colorful and creative, and create a focal point in the room. More than just a wall protector, a backsplash is a way to reflect your personality.
The usual distance between the countertop and the bottom of the upper cabinets is around 18.5 inches, or you may have more room depending on the layout of your kitchen. There are many options as far as materials for backsplashes. You can use the same materials as your countertop or use tile. Tile has become a very popular way to form a backsplash that will really spice up your look. You can tile all the way from the countertop or have a short backsplash matching the countertop and then tile above that. You can do the job yourself, but it's better to hire a tile setter to make sure the tiles are laid down perfectly smooth. He can also take the proper measurements to ensure you have enough materials to do the job properly.
Choosing Material
When designing your kitchen and bath, keep in mind that tile and materials stores often have consultants who are not just salespeople but can help you pick out what will go with the colors already existing in your kitchen and bath and also suggest new patterns you may not have seen. They can also help with other things, such as choosing a stopping point for the tile if your upper and lower cabinets don't end on the same vertical line. Tile backsplashes have come a long way from looking like subway tiles. Some have a very decorative tile set every so often in between solid colors or textured tiles. Mixing colors to make your own distinctive pattern can really perk things up, but stay away from mixing tiles of different thicknesses. If you don't have much space you may want to stay away from large patterns. You can also have the tiles set on a diagonal all the way or have a border of square tiles top and bottom. There are many decorative border or listello tiles on the market. Bringing photos to your tile store will help the consultant with suggestions on what you can do as far as colors and layout options.
When buying your tile, make sure your tile includes bullnoses to finish off the top edges. These are tiles that have a rounded edge on one long side so you don't just have a square edge. Besides looking better, bullnose edges don't collect dirt the way square edges do. Grout sealant is important to prevent stains.
Bathrooms have just as much decorative potential, often without more room to get creative if you choose to go around your mirror or medicine cabinet. Around your sink, the same considerations apply as far as edging, stopping points, etc.
Decorative backsplashes can give your kitchen and bath a totally new look without redoing everything in the room. They also add value to your home and are sure to draw comments from prospective buyers when the time comes to sell. They are really something to consider.